Christopher R. Tunnell
Prosecuting Attorney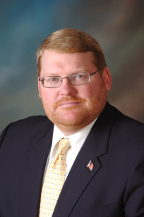 Chris spent his early years engaged in the private practice of law in Bedford Heights and later, Medina, Ohio. His focus was on domestic relations and criminal law. From 2001 to 2005, he was an assistant prosecuting attorney in the Ashland County Prosecutor's Office. There, his responsibilities included felony criminal prosecution; representation of the county children services department in child abuse, neglect, and dependency actions; prosecution of major felony juvenile delinquency cases; and coordination of township junkyard eradication. In 2005, Chris joined the Richland County Prosecutor's Office. After being promoted to a supervisory position within the criminal division in 2008, he continued to serve until 2014 when he became the Ashland County Prosecuting Attorney. While with Richland County, Chris had primary responsibility for coordinating all felony criminal prosecutions before one of two Common Pleas Judges. Chris has extensive jury trial experience which has included multiple homicides, major sex crimes including child victims, RICO, and other complex criminal cases.
Chris is chairman of the Ashland County Republican Party Executive Committee, a precinct chairman for the Ashland County Republican Party Central Committee, a Past Exalted Ruler at Elks Lodge #1360, a member of the Ashland Noon Lions, and an associate member of the Ashland County Township Association. He is also a member of the Ashland County Historical Society, the Sons of the American Legion, and Ashland Eagles Aerie #2178. An avid outdoorsman, he is a member of the Ashland County Wildlife Conservation League, the Friends of the Ashland County Park District, a Life Member of the National Rifle Association, Pheasants Forever, Ducks Unlimited, Delta Waterfowl, Trout Unlimited, and the National Wild Turkey Federation. Chris is also a certified competition BBQ judge for the Kansas City Barbeque Society and a parishioner of St. Edward's Catholic Church. Chris is a past member of the Ashland County Board of Elections and a past member of Richland County's Community Action for Capable Youth executive board and past chairman of the Ashland Historic Preservation Board.
Chris is a graduate of Hudson High School in Hudson, Ohio, of West Virginia University (B.A., History) in Morgantown, West Virginia, and of Case Western Reserve University School of Law (J.D.) in Cleveland, Ohio. Chris is admitted to practice in the State of Ohio, the United States District Court for the Northern District of Ohio, the United States District Court for the Southern District of Ohio and the United States Court of Appeals for the Sixth Circuit.
Chris lives in Ashland, Ohio, with his wife Sandra, the Executive Director of Ashland Main Street, and their daughter Madeline.